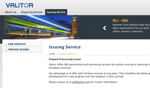 Valitor, the Iceland-based multi-brand payment card acquirer, is offering European entities BIN sponsorship and processing services to run prepaid programs.
The main advantage of offering both of these services in one place is that it simplifies the whole pathway from the early development of a new program until the program is fully up-and-running.
Valitor runs its own processing platform, which is fully integrated to VISA systems and is a developed version of our in-house technology platform that has been operating for more than 20 years.
Valitor's BIN sponsorship services include access to the VISA payment network, associated clearing and settlements services, holding client funds on client money accounts in trusted banks, and regulatory compliance – Valitor holds a Credit Institution license which can be passported into every EU and EEA country.
Over a span of 30 years, Valitor has accumulated knowledge and experience of issuing cards during this period. The company focuses on speed and flexibility towards customers, and aims to meet the demands of each party involved in the card issuing process.
For more information about BIN sponsorship and processing services with Valitor, visit www.valitor.com.