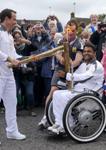 Members of Mund-og Fodmalende Kunstnere MFK (Danish Foot and Mouth Painting Artists), the Danish arm of the Association of Mouth and Foot Painting Artists (AMFPA), congratulated Keith Jansz on his part in the Olympic torch relay as it made its way towards the Olympic stadium in London for the Opening Ceremony on 27th July 2012.
Keith, a British Mouth and Foot Painting Artist (MFPA) who is paralysed from the chest down, was chosen to carry the torch near the hospital in Buckinghamshire where he spent many months recuperating after a horrific car accident in 1995.
"I'm so thrilled, it's has been such a tremendous honour," commented Keith, who was nominated for the relay by friends for his charity fundraising work. "I was also proud to be representing all the international member artists of the Association of Mouth and Foot Painting Artists (AMFPA) on this momentous occasion," added Keith.
Keith carried the Olympic torch in an attachment to a specially designed GTE powered wheelchair by ex Formula One designer, who designed the chair after seeing a trendy teenager in a horrible old chair. The chair was finished off in stunning Grand Prix White and Storm Grey coachwork.
As a member of the British Mouth and Foot Painting Artists, he paints by placing a rugby gum shield on the bottom of his teeth and using a long bent arrowhead shaft as a brush. "I'm very much involved in painting and getting my inspiration and buzz for being alive from that," he said.
On its 70-day journey across the UK, the flame was carried by 8,000 torchbearers in relay, and visited more than 1,000 cities, towns and villages. An average of 115 torchbearers a day carried the Olympic flame during its 8,000-mile journey around the UK before it arrived at the Olympic Stadium on 27th July. It visited every region and stopped off at UK landmarks such as Stonehenge and the Giant's Causeway.
The Mund-og Fodmalende Kunstnere (MFK) is part of the Association of Mouth and Foot Painting Artists (AMFPA) – a wholly owned, international self-help organisation of seriously disabled artists who take pride in earning their own living by painting with a paint brush held in their mouth or between their toes.  A panel of senior AMFPA artists select from the collection of painted images created by Danish artists and their fellow artists from around the world. These chosen images are then reproduced and sold to the general public as cards and calendars, benefitting the AMFPA's more than 800 artists in over 75 countries worldwide.
Contact:
Mund-og Fodmalende Kunstnere
Website: http://www.mfk.dk.