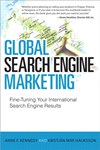 The authors of the popular book on search Global Search Engine Marketing, Kristjan Mar Hauksson and Anne Kennedy, are to speak during the upcoming SES (Search Engine Strategies) Internet marketing event in San Francisco, California, U.S., between 13th and 17th August 2012.
Kristjan Mar Hauksson and Anne Kennedy will be offering their expert knowledge on search behaviour in Europe during the Global SEM: Turn Right at Reykjavik – How to Reach Europe's Biggest Markets session on day 2 of the event.
Aiming for Europe? It's not as easy as you might think. Though allied under the EU, European countries are each unique, with diverse cultures, languages, and searcher behaviour. Google owns nearly all the search market share across Western Europe, which simplifies search marketing platform issues. However, helping Google bot understand just which market you are after is more complex, especially when languages cross borders, as do German and French.
This session will guide you through the key issues, with case studies to illustrate how successful global companies have tackled them.
Kristjan Mar Hauksson is the founder and director of search and online communications at Nordic eMarketing. The company specialises in multilingual online communications, organic search engine optimisation, and marketing through several verticals such as tourism, finance, government, and pharmaceuticals. It helps companies gain international visibility online and to use the Internet as a communication channel; it also provides consultation in web content management systems and analytics solutions.
Hauksson is on the board of directors of SEMPO and founded the Iceland SEO/SEM forum. He has been involved in developing Internet solutions since 1996, and involved in search engine optimisation and marketing since 1999.
Anne Kennedy is the founder of Beyond Ink, with 10 years' experience in search optimization and marketing. Anne is an industry thought leader and sought after speaker; covering topics ranging from Duplicate Content, Cleaning Up Messes and Balancing Paid and Organic.
Another key session during the SES 2012 event is Global SEM: Hidden Dragons—Mastering Search in Tempting Asian Markets, whereby the best practices to use at home to reach customers in China, Japan, or South Korea will be explained – Anne Kennedy is set to moderate this session, also.
Search Engine Strategies (SES) has been the leading international conference series for webmasters, digital agencies, online marketers and corporate decision makers since it began in 1999. Over the years, SES has guided search marketers of all skill levels through the fast changing and complex world of search — the single fastest growing marketing sector.
The event is to be held this year at the Moscone West Centre, 4th St & Howard St, San Francisco, CA.
For further information regarding the SES San Francisco 2012 event visit http://sesconference.com/sanfrancisco/.
To find out more about Nordic eMarketing and Kristjan Mar Hauksson visit www.nordicemarketing.com and www.optimizeyourweb.com.
To purchase Global Search Engine Marketing, click here.