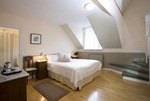 Hotel Odinsve, a popular hotel in Reykjavik, is giving its guests the opportunity of saving up to 15 percent on accommodation with its early bird special offers.
The hotel is offering this special discount as part of its Early Booker Rates, giving visitors the chance to save 15 percent on its accommodation. For the best rates available, reservations must be booked online at least 30 days before the date of arrival, and must be prepaid at the time of reservation.
Hotel Odinsve is located just a few minutes' walk away from downtown Reykjavik's main shopping street, Laugavegur, where over 100 bars, restaurants and cafes are situated, alongside numerous boutiques and retailers.
All of its rooms have wooden floors, comfortable beds and high quality duvets and pillows from Kronborg of Denmark.  Each room includes a shower, minibar, complimentary coffee and tea, satellite TV, radio, telephone, and hair dryer.
The hotel holds a range of amenities for its guests, including a restaurant, a coffee shop, a café, a bar lounge, all located on-site – it also boasts free wireless Internet for its customers.
To learn more about the hotel's early bird special offers, as well as other offers on hotel accommodation in Reykjavik, visit http://www.hotelodinsve.is/special-offers/.