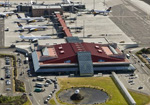 The annual ASQ Awards Ceremony, which took place last week in Singapore, saw Iceland's Keflavik International Airport receive the award for 'Best Airport in Europe 2011'.
Keflavik won the award in the category 'best airport for 2 million passengers or less' after participants of an extensive airport service survey, conducted by Airports Council International, voted the airport as top of its category.
The survey involved 186 major airports worldwide, 54 of which were in Europe. Participants answered a number of questions about the quality of more than 36 service factors including customer satisfaction, helpfulness and courtesy of staff, ease of flight connections, cleanliness, and check-in times.
Iceland's international airport actually came out on top in terms of service, but since it was placed in the smaller airports category, was not able to come out on top overall.
In 2009, Keflavik was ranked the best airport in Europe and came in second in the same category for 2010. The airport was also ranked third in terms of best airports in the world in 2004 to a group of airports with less than five million passengers a year.
Visit www.kefairport.is/airmail for monthly updates on Keflavik Airport and its services.