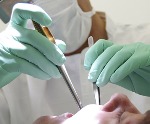 James Hull Associates' dentist practice in Manchester, St. Ann's, offers various facial aesthetic treatments including Botox/Dysport® alongside its cosmetic dentistry procedures in order to ensure its patients have a greater quality of life.
Amongst St. Ann's facial aesthetic treatments include dermal fillers, lip enhancement procedures, and wrinkle reduction treatments.
As part of the dental practice's dermal fillers, St. Ann's uses Restylane™, a gel that closely resembles the hyaluronic acid that preserves the elasticity of the patient's skin. These fillers are injected around fine lines and wrinkles and provide a long lasting solution by penetrating deep into the skin and treating the dermis itself, to give patients younger, smoother looking skin. 
The practice also uses Restylane™ as part of its lip enhancement procedures. The biodegradable gel that is injected into the lips lasts between six to twelve months and adds volume to the body of the lips while increasing definition for a youthful smile.
For the practice's wrinkle reduction treatments, the celebrity favourite Botox/Dysport® is used to soften facial lines and refresh the patient's appearance in one simple procedure that lasts for up to five months. Suitable for people between the ages of 18 and 65, Botox/Dysport® is injected into the muscles of the face to relax them and make lines appear less obvious.
In addition, St. Ann's is renowned for offering patients a comfortable and anxiety-free visit. Its patient lounge has been designed specifically to ensure a relaxing and calming atmosphere, providing patients with an up-to-date selection of magazines, a plasma television, and a range of drinks and fruits.
Furthermore, the St. Ann's dental team is dedicated to making visits as comfortable and as stress free as possible, as well as to providing a quality of service and care that makes patients feel valued and important.
To find out more about the facial aesthetic treatments at the dentist practice in Manchester, visit http://www.jameshull.co.uk/stanns.
For direct enquiries, see contact details below:
St. Ann's Dental Practice
14 St. Ann's Square
Manchester
M2 7HQ
Tel: 0161 820 6294
Opening hours
Monday 09:00-20:00
Tuesday 09:00-17:30
Wednesday 09:00-17:30 (every other Wed 09:00-20:00)
Thursday 09:00-17:30
Friday 09:00-17:00