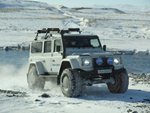 Glacier tours to the amazing Jokulsarlon in Iceland are being offered by leading Super Jeep tour provider SuperJeep.is. This one-of-a-kind guided tour is a perfect way to experience one of the country's greatest natural wonders.
As part of the glacier tour, guests will travel by Jeep to the beautiful southern coastline of Iceland, passing villages Selfoss, and Kirkjubaejarklaustur, as well as the iconic Skogafoss waterfall, and the beautiful Skaftafell National Park.  
Visitors will also get a chance to visit Vik, home of the black sand beaches, before reaching the Jokulsarlon glacial lagoon.
The incredible Jokulsarlon glacial lagoon is considered as one of the natural wonders of Iceland, home to Icebergs of all shapes, sizes, and colours. Jokulsarlon has also been the setting for blockbuster films such as A View to a Kill, Die Another Day, Tomb Raider, and Batman Begins.
Guests will have the opportunity to walk the shores of the lagoon, and capture the magnificent scenery. For a more intimate view, visitors can board various ships and sail amongst the oddly-shaped ice formations.
In addition to glacier tours, the Super Jeep tour provider offers other day tours to some of the country's greatest sights, including the Golden Circle; Gullfoss, Geysir, and Thingvellir; Thorsmork, Snaefellsnes Peninsula, Mount Hekla, Eyjafjallajokull, and many more.
SuperJeep.is is a family run company that offers unique peronalised tours with a friendly atmosphere. The company's Land Rover Defender Jeeps are well equipped for the Icelandic terrain so that the knowledgeable tour guides can take visitors to destinations in Iceland that coaches just cannot reach.
For more information regarding glacier tours in Iceland with SuperJeep, visit www.superjeep.is.