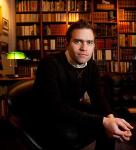 The CEO of H.F. Securities firm in Iceland, Andri Gudmundsson, recently spoke with Bloomberg about Iceland's current economic climate and the Investment Programme which has been implemented in order to ease off capital controls imposed in 2008 after the financial collapse.
According to Gudmundsson, investors in Iceland are being heavily affected by the capital controls imposed by Sedlabanki Islands (The Central Bank of Iceland). Today, investors with about USD 3 billion backed up in ISK assets now face delays in exiting their holdings as steps to ease the restrictions by 2015 show signs of faltering.
Whilst talking with Bloomberg, Gudmundsson explained that it will take decades for the Central Bank to remove the capital controls with its current method, and eventually the bank will have to change tactics. He also explained how the currency restrictions remain a key impediment to boosting Iceland's credit grade.
At the recent currency auctions, the Central Bank purchased ISK 4.9 billion (USD 39 million), less than a fifth of its target. The bank also bought EUR 22.5 million (USD 30 million) of a planned EUR 100 million in a separate auction designed to encourage long-term investment – the so-called Investment Programme.
According to the Investment Programme, parties intending to invest in Iceland and that sell foreign currency at a domestic financial institution are permitted to participate in the Central Bank's foreign exchange auctions. Here they can sell the Central Bank the same amount of foreign currency that they have sold to the financial institution concerned, provided that all of the funds will be used for domestic investment, according to further provisions.
Investors participating in the Investment Programme received a considerable discount on their investment by commiting for 5 years.
Gudmundsson commented, "Ideally, the central bank wants the krona offshore rate to converge with the krona onshore rate. However, when you look at the developments over the past year, there are signs that the reverse is happening."
Visit www.hfverdbref.is/en for more information about Iceland's current financial climate.