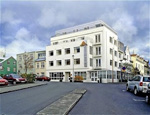 Hotel in Reykjavik, Hotel Odinsve, is ready to accommodate visitors looking to experience summer events in Iceland's exciting capital.
Summer events in Reykjavik draw hundreds of visitors every year to experience Iceland's great atmosphere and cultural practices, including the National Day of Iceland and the Reykjavik Art Festival.
The National Day of Iceland has been celebrated on June 17th since 1944. The festivities in Reykjavik include colourful parades, street theatre and music, sideshows, and dancing.
The Reykjavik Art Festival, taking place May 18th – June 3rd, is Iceland's premier cultural festival bringing together the best in local and international theatre, dance, music and visual art. The programme offers a variety of curated exhibitions, concerts, dance, theatre, and opera performances across downtown Reykjavik.
The hotel is situated in a peaceful neighbourhood, just a short distance away from downtown Reykjavik's main shopping street, Laugavegur. Here, visitors can check out over 100 bars, restaurants and cafes are situated, alongside numerous boutiques and retailers.
All of the rooms in Hotel Odinsve have wooden floors, comfortable beds and high quality duvets and pillows from Kronborg of Denmark.  Each room includes a shower, minibar, complimentary coffee and tea, satellite TV, radio, telephone, and hair dryer. The hotel holds a range of amenities for its guests, including a restaurant, a coffee shop, a café, a bar lounge, all located on-site – it also boasts free wireless Internet for its customers.
To find out more about the hotel in Reykjavik, visit http://www.hotelodinsve.is.