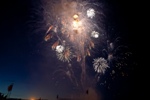 At the stroke of midnight on New Year's Eve, Iceland's capital, Reykjavik, night turns to day when hundreds of thousands of exploding fireworks light up the city's skyline.
For those who are want to join in the celebrations with the Icelandic locals but can't make it in person, fortunately the Icelandic telecommunications company, Mila, streams the event live on the Internet via a webcam over looking Reykjavik's skies.
Thousands of tourists visit Iceland to celebrate the New Year — most of whom are drawn to the country by the 600 tonnes of fireworks that are let off by the locals. Some tourists describe the Reykjavik New Year's fireworks as something everybody should experience at least once. However, thanks to Mila, viewers can now experience the exploding rockets and dancing lights sparkle and shimmer as it happens from the comfort of their own homes.
In addition to the Reykjavik webcam, Mila also maintains other incredible webcams, which are widespread across Iceland, and can all be viewed live 24/7 via its website. Webcams are located at the Blue Lagoon, Gullfoss, Jokulsarlon, Geysir, Katla, Hekla, Eyjafjallajokull, Akureyri and Austurvollur in downtown Reykjavik.
To join in the New Year's Eve celebrations in Iceland from anywhere in the world, check out http://live.mila.is/english/newyears/ on 31st December.
Photo: Oli Kristinn – http://flickr.com/olafur