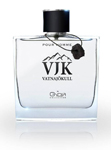 After the huge success of Gydja Collection's debut perfume, EFJ Eyjafjallajokull, Iceland's hottest label has once again encapsulated the ferocious nature of the Icelandic landscape with its new Eau de Parfum for men, VJK Vatnajokull.
The new fragrance VJK Vatnajokull delves into an untouched landscape of sharp masculine tones, blending together the natural scents of citrus and jasmine to create a vision of empowerment and refinement.
Named after the largest glacier in Europe, VJK Vatnajokull is a title synonymous with power and strength. Each bottled fragrance comes complete with a piece of lava stone, leaving the wearer with not only a wonderful, complex aroma, but also with a part of Icelandic history.
"Our concept was to unleash the inner-fire of the wearer; to represent prowess and courage – the name VJK Vatnajokull encompasses all of those elements of masculinity," explains Sigrun Lilja Gudjonsdottir, founder and head designer at Gydja Collection.

Gydja Collection is one of Iceland's most current-sought after labels, gaining wide spread attention online and in print media both domestically and abroad. Sigrun Lilja has established a name for herself as a figurehead for Icelandic designers and female entrepreneurs with appearances on Turkish television, as well as being a co-author of the book The Next Big Thing.
To find out more about Gydja Collection's VJK Vatnajokull Eau de Parfum for men, visit www.gydja.is.