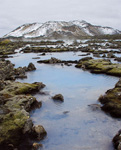 Leading travel guide, Sunday Times Travel Magazine has recently awarded Iceland as being the 'Best Adventure Travel Destination' as part of its 2011 Readers Awards.
Iceland was crowned as the 'Best Adventure Travel Destination' for its breathtaking 'lunar landscapes' and welcoming atmosphere, as voted by Sunday Times Travel Magazine readers.
This award is the third that Iceland has won over recent months, achieving the 'Best in Travel' as part of the annual Lonely Planet 'Reader's Choice Awards,' as well as being included in National Geographic Traveler's pick of the 'Best of the World 2012.'
In light of this announcement, Icelandair has launched its new Natural Wonders City Break package deal, which includes flights from Manchester, Glasgow or London Heathrow; three nights accommodation; and a South Shore Adventure Tour with Reykjavik Excursions.
The South Shore Adventure Tour is a must for nature lovers looking to explore some of Iceland's most incredible sights. Highlights of the trip include heading to Vik, a charming village on Iceland's south coast, surrounded by high cliffs and black sea beaches; walking behind the spectacular Seljalandsfoss waterfall; and visiting one of the country's most spectacular glaciers.
To find out more about Icelandair's Natural Wonders City Break, visit www.icelandair.co.uk.