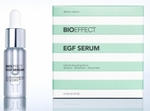 The anti-aging lotion, BIOEFFECT EGF SERUM by Sif Cosmetics, a biotechnology company that specialises in cosmetic products, was listed in the top Most Striking Beauty Innovations of the Year 2011 by Vogue Germany.
Dr. Bjorn Orvar, Founder and CEO of Sif Cosmetics, commented, "It has been great for us here at Sif Cosmetics to witness our unique product receive so much praise and attention in what is a fiercely competitive market."
Orvar added, "When designing the BIOEFFECT EGF SERUM, our mission was to develop a product that delivers real results – we set this scientific standard for all of our products and it is encouraging to receive recognition from such a respected publication as Vogue."
EGF (Epidermal Growth Factor) – a substance which occurs naturally in human skin and which has the ability to speed up the rate of cell turnover within the skin – is the key ingredient in the anti-ageing serum. The company has innovatively been able to produce the EGF in DNA engineered barley seeds, making it more stable and active.
The product can be found in cosmetic stores across Europe including Colette in Paris, La Rinascente in Milan, Boots in the UK, Parfumerie Delfi in Berlin, and Osswald in Zurich.
More details about Sif Cosmetics and its BIOEFFECT EGF SERUM can be found at www.bioeffect.com.