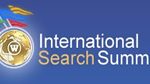 Streetsmart Social's Tracy Falke was voted the Medallion Speaker at the International Search Summit London on 24th November, following an entertaining session covering the dos and don'ts of global social media management.
The Medallion speaker is a regular feature at International Search Summit events, where delegates vote for the speaker they feel made the best contribution to the day. Tracy provided actionable tips for managing global social campaigns and presented a case study, demonstrating how a leading global brand implemented a successful crisis management strategy using social channels.
Many other speakers also received multiple Medallion votes for their sessions, including Marty Weintraub from aimClear,, Nordic eMarketing's Kristján Mar Hauksson , Anders Hjorth from BDBL Media and Annabel Hodges and Martin Macdonald from OMD.
Sessions ranged from International SEO and International PPC to Global Reputation Management and the International Social SEO Field Guide and the speakers shared case studies, data and insights, giving delegates a wealth of takeaways to apply to their own global campaigns.
The International Search Summit is aimed specifically at organisations who are working across multiple languages and markets, and focuses on the challenges and issues facing international marketers.
The Summit is run by international web marketing agency WebCertain, and now runs as part of SMX conferences across the USA and Europe. Details of 2012 events can be found at www.internationalsearchsummit.com