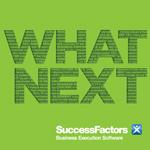 Through the generation of research based-content, the SuccessFactors' 'Next Economy' campaign focused on the challenges presented by today's turbulent economic conditions. In doing this, it aimed to raise awareness of the changing dynamics impacting businesses and to identify the factors that would influence who would be the winners and losers in the 'Next Economy'.
At the heart of the business campaign were two pieces of incisive content which, to date, has been reviewed by organizations in 76 countries across the globe. The primary business research report, 'The Link Between Strategic Alignment and Staff Productivity', identifies three critical interdependent areas for determining failure or success – Alignment & Collaboration, Performance & Productivity and Growth & Talent.
In the accompanying white paper, 'Winners & Losers in The New Economy', by Erik Berggren, Vice President of Customer Results & Global Research at SuccessFactors, and Vinzenz Kremer, Managing Director and Executive Partner at Accenture, discuss the research findings and examine what will separate the winners from the losers; winners and losers will emerge not as a consequence of picking the right strategy but from aligning that scarcest resource, talent, to execute that strategy.
The focus for the 'Next Economy' business campaign was to create awareness of the fundamental changes necessary to address volatile economic conditions with technology that is available today. As a result, through the implementation of this technology, Human Resources professionals can play a more strategic role in collaborating with their business leaders to manage their workforces better, improve alignment, communication, execution and people performance.
The message to business leaders is simple – they need to carefully assess their own organization's status in relation to the study's findings, whilst at the same time considering what the 'Next Economy' looks like for them. Those business leaders who have the ability to close the gap between strategy and execution will have the best opportunity to achieve competitive advantage and emerge as a winner in the 'Next Economy'.
During the course of the campaign, it has been identified that the stock performance of organizations using SuccessFactors business execution software has outgrown stock market indices over the past 3 years by over 200% – are these the winners in the Next Economy?
For more information, visit www.successfactors.co.uk/accenture. Additionally, for up-to-date information, follow SuccessFactors on Facebook and Twitter, or visit www.successfactors.com.