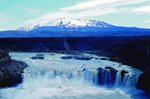 Journalists from all around the world have begun to speculate over the eruption of Iceland's Hekla volcano; however, scientists say that there is not yet any indication of when – no eruption is starting at this time.
Scientists have been expecting a new eruption for several years and recent activity under the mountain seems to have confirmed that the volcano is ready to erupt. However, geophysicist Pall Einarsson said in interview yesterday that the current volcano scare is simply made up: "They are actually quoting me as saying that Hekla will erupt soon; but there is nothing new in this. I've been saying this for three or four years and 'soon' means different things to journalists and geologists," he said.
"This is just another example of sensational journalism and actually a discredit to their profession; especially in Britain. Some major British media are making sensational stories about Hekla based on nothing at all," Einarsson explains.
The mountain has risen up by about a metre – a sure sign that magma is close to the surface. But no earthquakes have been measured – which means that an eruption is not immediately imminent. The Icelandic  Department of Civil Protection and Emergency Management has advised, as always, to take every precaution when climbing the Hekla mountain.
Einarsson continued, "The last scare earlier this year, about Bardarbunga  which came to nothing, was based on a bad translation from Icelandic. This time there is not even that excuse. A lot of this news is even built around quotes by 'experts' who are not, in fact, real experts. Foreign journalists should get their expert quotes from us at the University of Iceland, or from the Icelandic Met Office; which also has an excellent up-to-date website in English. Journalists should talk to experts and not just take their news from anyone!"
Historically, when Hekla erupts roughly every ten years its force is moderate and the disruption it causes is minimal. It last erupted 11 years ago. When the gap between eruptions is significantly longer than a decade, the force of eruptions tends to be much bigger. The 2000 eruption was short and was most active during the first couple of hours.
In addition, Hekla is not underneath a glacier (as both Eyjafjallajokull and Grimsvotn are); so lava does not come into explosive contact with ice. Hekla therefore is not known for the sort of ash production which causes disruption to aviation.
Image: Gisli Sigurdsson – Mbl.is