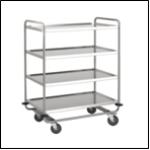 As the leading manufacturer of stainless steel furniture and equipment for the catering industry, Teknomek provides a comprehensive range of clearing trolleys to the catering sector. The stainless steel trolleys are available in a wide range of sizes and shelf configurations for loads of up to 200kg.
The BC0010/ BC0020/ BC0030 ranges are made from 304 grade stainless steel and come in 2, 3 or 4 tier versions. The trolley is mounted on 4 swivel castors (two of which are braked) – all trolleys are fitted with bump protection as standard. Teknomek also offers a basic mild steel model – the BC0040. This model is available in 2 or 3 tier options but with the same castor and bump protection features as the BC0010 and is flat packed for easy assembly.
The stainless steel clearing trolleys can be supplied with optional clip on containers or waste bag holders which attach to the handle. The BC0010/ BC0020/ BC0030 range can also be fitted with optional 3 or 4 sided gallery rails.
In addition to the catering trolleys, the stainless steel manufacturer offers a comprehensive range of catering equipment which includes bain marie tops, gastronorm containers, heated plate dispensers, hot cupboards, pre-rinse units for pot wash, servery units; cold units, hot units (including a version with a heated gantry and bain maries), tab grabs, tables, trays, and stainless steel cupboards for storage.
For more information about Teknomek's catering trolleys and stainless steel catering equipment range, visit www.teknomek.co.uk, or for direct enquiries, see below:
Teknomek Ltd
Tel: +44 (0)1603 788833
Email: mail@teknomek.co.uk
About Teknomek
Teknomek is Europe's leading manufacturer of stainless steel catering equipment and furniture, providing high quality and cost-effective stainless steel solutions to industry hygiene requirements for catering applications.