Nigeria's Minister of Petroleum Resources, Diezani Alison-Madueke has been commended for her radical initiatives that have swept throughout the industry over the past year.
ABUJA, NIGERIA — (eNewsWire – June 16th, 2011) – Alison-Madueke's achievements in the federal cabinet, especially in the Petroleum Ministry, have been recognised by stakeholders in the oil sector and other groups including the apex Igbo socio-cultural organisation, Ohanaeze Ndigbo.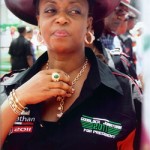 Secretary General of Ohanaeze, Chief Nduka Eya, said, "I doff my hat for Madueke for the way and manner she has injected life and restored confidence in the petroleum sector. It is something worthy of emulation and she should therefore be allowed to continue so as to deepen the efforts she has made so far".
Alison-Madueke was appointed into the federal cabinet as Minister of Transport in 2007 after seeing out her role as Executive Director in Shell Petroleum Development Company (SPDC). She moved to the Ministry of Mines and Steel Development in December 2008 from where she was appointed Minister of Petroleum Resources in April 2010. President Jonathan appointed her based on her good understanding of the petroleum sector and the tremendous cooperation she enjoys from chieftains of the oil industry.
Alison-Madueke arrived at the Ministry of Petroleum Resources with experience of serving as Minister of Transportation as well as Minister of Mines and Steel Development and was to become the very first female petroleum minister on the continent. She wasted no time in demonstrating her enthusiasm for tackling the countless number of challenges within the sector.
For instance, during the Petrochemical Revolution, Alison-Madueke detailed the plans for a new stage in the development of the petrochemical industry by creating a national industry for the by-products of the petroleum industry. She explained that full implementation of the entire gas master-plan agenda will result in about $25bn worth of investments in gas processing, transmission and downstream gas utilisation projects. Already, the three projects on which the revolution is anchored will result in foreign direct investment as high as $10bn.
In addition, the petrochemical project alone will be the largest industrial complex in Africa with products that will enable the growth of numerous downstream plastic manufacturing industries. The knock-on effect of such a huge plant is the redevelopment and expansion of the port facilities near the plant locations. This will create a hub of economic and commercial activity around the hither-to quiet port towns.
It is radical initiatives like these that have earned Alison-Madueke such respect amongst her peers. These initiatives, as well as honouring her former position as Minister of Petroleum Resources, are also making a difference and investing in the future of the Nigerian economy.
For more information read:
Diezani Allison-Madueke Profile