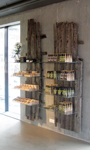 Leading Icelandic souvenir store, Nordic Store recently opened a second establishment in downtown Reykjavik, Iceland. The new store is located on the corner of Laekjargata and Austurstraeti by Laekjartorg Square – probably the most visible street corner in Reykjavik.
The store holds a range of unique Iceland souvenirs, products and design, including hand-knitted lopapeysa woolen sweaters, Blue Lagoon SPA beauty products and tea made from Icelandic moss. The store's interior design is made in true Icelandic style: a counter made of basalt columns, an old pier-turned-table and shipwrecked wood panels as shelving.
This is the second Nordic Store property; the other is located on Skolavordustigur, which opened in 2009. The owners, Bjarni Jonsson and Hafsteinn Valur Gudbjartsson, have previously stated that their key to success was to offer "quality products in niche markets." To cope with high demand of woolen products, they hired more than 50 local knitters, most of who were unemployed at the time.
"We've already sold a lopapeysa," Gudbjartsson says, clearly optimistic about the future. It has reported that they will soon move into their new office space on the second floor with other businesses scheduled to open in the new renovated buildings in the early summer as the reconstruction gradually comes to an end.
Nordic Store has been focusing on providing and selling the Internet shopper with the biggest selection of Icelandic products since 2008, selling products ranging from clothes, jewellery, music, DVDs, travel guides, to food and beverages.
To find out the Icelandic products available with Nordic Store, visit www.nordicstore.net.