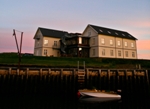 Located on the southwestern shores of the Snaefellsnes peninsula, Hotel Budir is a luxury Iceland hotel where guests have an impressive view of the Snaefellsjokull glacier volcano and the Budir-estuary.
The Snaefellsnes area is a favourite amongst tourists as it is extremely diverse and boasts many of Iceland's best sceneries within short driving distance of the country's capital city, Reykjavik.
The hotel's restaurant is well-known across Iceland and is often referred to as "The Mecca of Icelandic cooking", due to its one-of-a-kind menu and exquisite cuisine. The restaurant offers a seasonal menu which takes advantage of fresh local produce like seafood and fish from neighbouring villages such as Stykkisholmur, Olafsvik and Borgarnes.
Furthermore, the snaefellsnes area provides an abundance of opportunities to partake in, including sailing, horse riding, hiking, golf and glacier tours. Hotel Budir employees are more than happy to help guests find activities and organise leisure time with a wide variety of tours, including sightseeing helicopter trips, seatours, fly fishing, bus-tours and mountain-jeep-safaris.
Additional information about Hotel Budir can be found at www.hotelbudir.is.