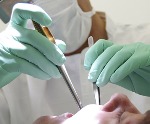 The Barnton Dental Practice in Northwich, Cheshire is a James Hull Associates' dentist that offers white fillings, crowns, bridges, dentures, and root canals, as well all mandatory NHS treatments and cosmetic procedures such as teeth whitening, veneers, and lumineers.
The Northwich dentist is run by an experienced team of dentists who endeavour to provide high quality dental care and a first class service. The dental surgeons are also committed to educating and informing patients about procedures in order to make visits to the practice as relaxed and anxiety-free as possible.
In addition to the aforementioned dental services, the Barnton dentist also offers implants, oral surgery, restorative dentistry, Invisalign®, and Clear Step. Furthermore, the practice offers schemes such as Patient & Corporate Maintenance, and also Dental Finance including 0% subject to status.
James Hull's Barnton dental practice is supported by an efficient, highly focused and friendly dental team who together help provide the best possible care and service to new and current patients. Due to the dental practice's flexible opening times, the Barton Dental Practice is ideally located for anybody requiring an experienced, specialist dentist in the surrounding Northwich area.
Visit www.jameshull.co.uk for more information about the Barnton, Cheshire dentist and for booking enquiries, see below:
137 Runcorn Road,
Barnton,
Northwich,
Cheshire,
CW8 4HD
Tel: 01606 828321
Fax: 01606 786537
Opening hours:
Monday 0900-1730
Tuesday 0830-1900
Wednesday 0830-1900
Thursday 0830-1730
Friday 0900-1700
Saturday 0900-1730