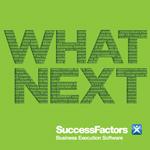 A new business research report commissioned by the business execution software solutions company, SuccessFactors shows that only twelve percent of organisations surveyed possess an IT system that delivers the information needed for strategic business management and business execution. In comparison, nearly three out of four respondents whose companies use collaborative technologies, such as SuccessFactors' CubeTree, feel their organisation communicates business strategy well or very well.
The research report, titled 'The Link Between Strategic Alignment and Staff Productivity', identifies three critical areas for determining failure or success in this area: Alignment & Collaboration, Performance & Productivity, and Growth & Talent.
Key findings of the report show that only seventeen percent of organisations know all of their top performing employees and are looking to develop them for future roles, whilst only a third of all organisations monitor and manage their employee's goals using a fully integrated computerised solution.
Erik Berggren, Vice President of Customer Results and Global Research for SuccessFactors commented, "What matters most are the people who will execute the strategy – many of whom CEOs and senior management will never meet. It is essential for business leaders to align their team's work with the overall business strategy and it is clear that most don't know how to do this effectively. At SuccessFactors we work with customers to deal with this every day and through our Business Execution (BizX) solutions we are helping companies reverse this trend."
In addition, the performance management software company is now providing businesses and organisations with the opportunity to generate a personalised performance and alignment report. The individualised report can be created by answering a series of simple multiple choice questions. This then provides the organisation with both an Alignment & Collaboration and a Performance & Productivity score to help achieve business goals and objectives.
For more information about strategic business management and to create a personalised report, log on to http://the-next-economy.com.
Furthermore, visit www.successfactors.com for up-to-date information regarding SuccessFactors, or follow the company on Facebook and Twitter.