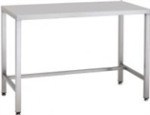 Teknomek, Europe's leading manufacturer of stainless steel furniture and equipment, offers an extensive range of 304 grade stainless steel tables that meet industry standards for the most arduous conditions.
The strong, durable tables are available as either static or mobile units with BZP or stainless steel castors. The tables have proved especially popular in the catering industry as stainless steel is the most common material used in food preparation environments due to its hygienic properties. However, they are equally at home within pharmaceutical, cleanroom and other hygienic environments.
The preferred use of stainless steel for food preparation is due to the metal being an iron based alloy which contains a minimum of 10.5 percent chromium and a maximum of 1.2 percent carbon. The chromium content provides a protective layer of chromium oxide on the surface, also known as the passive film or layer. Additionally, stainless steel is easier to clean than other materials such as polymers and aluminium, and has comparable hygienic qualities to glass.
Teknomek's stainless steel table range includes mobile tables, modular workstations, perforated tables, standard stainless steel tables; one and two tier, polyethylene top tables, circular canteen tables, mobile laptop tables, and table add-ons such as drawers, cupboards and shelves.
In addition to the standard table sizes, the stainless steel manufacturer also offers a full customised service which means that customers can have non-standard sizes and specifications to fit their own particular requirements.
To view Teknomek's full range of stainless steel tables, visit www.teknomek.co.uk, and for further enquiries, call directly on +44 (0)1603 788833.
About Teknomek
Teknomek is Europe's leading manufacturer of catering stainless steel furniture and equipment, providing high quality and cost-effective stainless steel solutions to industry hygiene requirements.