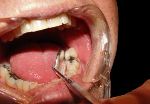 The James Hull Associates' Kings Heath Dental Practice in Birmingham is run by an experienced team of dentists with years of experience in the profession. The practice provides high quality dental care including white fillings, crowns, bridges, root canals, and other NHS treatments.
The Birmingham dentist practice offers additional services including implants, oral surgery, Invisalign®, and teeth whitening.
The Kings Heath dentist also offers payment plans including Denplan Essentials and 0% finance, subject to status.
In addition, the Birmingham dentists together make a highly professional and successful team, helping to provide the best possible care and service to new and current patients.
The dental surgeons are also committed to educating and informing patients about procedures in order to make visits to the practice as relaxed and anxiety-free as possible.
For further information about the Kings Heath dentist in Birmingham, visit www.jameshull.co.uk or for direct enquiries and booking appointments, see the contact details below:
108 High street
Kings Heath
Birmingham
B14 7LG
Tel: 01216 678392
Fax: 01214 834101
Opening hours:
Monday 0900-1730
Tuesday 0900-1730
Wednesday 0900-1730
Thursday 0900-1815
Friday 0900-1730
Saturday 0900-1300