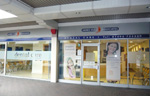 The Gwent South Wales dentist practice, Tredegar aims to offer both NHS and Private Dentistry in a caring, friendly, patient-focused environment. The practice also prides itself on offering modern facilities and a highly trained and experienced team.
The staff at the South Wales dentist is always welcomes new and existing patients, and tries to make patients' visits to the practice a relaxed and anxiety-free experience.
The dentist practice in Gwent provides dental services including implants, Invisalign® and cosmetic dentistry procedures such as teeth whitening and veneers; the practice also offers a DPAS Maintenance scheme.
Others dental services offered include crowns, bridges, root canal treatments, gum health treatments, full mouth rehabilitation, lumineers and various other oral health treatments.
For further information regarding the Gwent dentist practice, visit www.jameshull.co.uk, and to contact the practice directly, see the contact details below:
Tredegar Dental Care Services
Unit 21
Gwent Shopping Centre
Tredegar, Gwent
NP22 3EJ

Tel: 01495 708958
Fax: 01495 725693
Opening hours:
Monday, Tuesday, Thursday 0900-1730
Wednesday 0900 – 1900
Friday 0900-1500