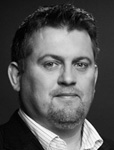 It has been announced that Kristjan Mar Hauksson is to speak during the 'Multilingual International Internet Marketing and Comms' session at Gulltaggen 2011 – Norway's most important event for digital marketing, communication, innovation, leadership and creativity, and is by far the best arena for sharing competence, knowledge and networking.
During the session, Kristjan Mar will speak about Internet marketing and public relations in a multilingual environment and illustrating his points using case studies, site audits and best practices based on his 10 years' consulting experience.
Kristjan Mar Hauksson is the Founder and Director of Search & Online Communications at Nordic eMarketing and SEMPO member. The company specialises in multilingual online communications, organic search engine optimisation and marketing through several verticals such as tourism, finance, government and pharmaceuticals. Nordic eMarketing also assists companies to gain international visibility online and to use the Internet as a communication channel, as well as providing consultation in web content management systems and analytics solutions.
Expect to walk away full of ideas and knowledge with hands on tips to amend your international marketing efforts.
Gulltaggen 2011 spans over three full days starting 12th April, and promises to be the best Gulltaggen event yet. 12th of April consists of seminars and networking after dark, 13. April is conference day and networking after dark, and on the last day 14. April there will be conference by day and price award ceremony and gala dinner with entertainment by night.
For more information regarding Gulltaggen 2011, visit www.gulltaggen.no.