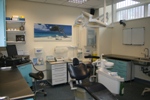 The Priory Queensway Dentist Practice in Birmingham, James Hull Associates' flagship practice for the Midlands, is conveniently located right in the city centre, offering specialist treatments such as cosmetic dentistry, teeth whitening and dental implants.
The Birmingham dentists offer a first class service in the state-of-the-art surroundings. The dentists are experienced in all aspects of restorative dentistry and aesthetic treatments. The highly efficient dental team are also keen to welcome new and existing patients and aim to ensure that visits to the practice are relaxed and anxiety-free.
The Birmingham dentist practice offers additional services including white fillings, root canal, crowns, bridges, dentures and Invisalign®. The dental practice also provides James Hull Dental Health Care Plan dental examinations. The plan includes hygiene treatment, monitoring, x-rays, a 10 percent discount on general treatment and 24 worldwide accident and emergency insurance.
Furthermore, due to the dental practice's flexible opening times, the Priory Queensway practice is ideally located for anybody requiring specialist dental treatment in the Birmingham area.
Additional details about the Birmingham dentist practice and the services offered can be found at www.jameshull.co.uk or for direct enquiries and booking appointments, see the contact details below:
10 Priory Queensway
Birmingham
B4 6BS
Tel: 0121 2678216
Fax: 0121 2363149
Opening hours:
Monday 0900-1730
Tuesday 0900-1730
Wednesday 0900-1730
Thursday 0900-1730
Friday 0900-1630