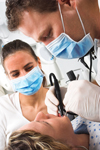 Dentist in North Wales, The North Wales Dental Clinic & Implant Centre offers a range of quality treatments and dentistry services including white fillings, crowns, bridges, dentures and facial aesthetics for those living around the Conwy area.
Additionally, the North Wales dentist practice is offering other services such as root canal treatments, Invisalign®, mouth cancer screening and advanced restorative dentistry. The practice also prides itself on offering interest free credit finance (subject to status) and an out of hours emergency service.
The North Wales Dental Clinic & Implant Centre comprises of Dr Trevor Ferguson and Dr Eric DeWet, both of whom pride themselves on delivering the highest standard of patient care and quality of treatments. They are also supported by two dental hygienists committed to making the practice environment as relaxed as possible.
The dentist in North Wales is dedicated to preventative dental care as well as delivering state of the art reconstructive and cosmetic surgery.
For more information about the dentist in North Wales, visit www.jameshull.co.uk, and for further enquiries, see the contact details below:
The North Wales Dental Clinic & Implant Centre
104 Conway Road
Colwyn Bay
Conwy
North Wales
LL29 7LL
Telephone:
01492 532168
01492 551466
Fax:
01492 532168
Opening hours:
Monday – Tuesday 0900-1730
Wednesday 0800-1730
Thursday 0800-1900
Friday 0800-1400