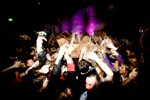 Looking for exciting and unique birthday party ideas with a difference? Why not experience the thriving nightlife of Reykjavik, Iceland, the northern-most party capital of the world. The Iceland airline, Icelandair has introduced its new Nightlife in Reykjavik package deal to make the planning for adult partygoers that bit easier.
With over 100 different bars, clubs and restaurants all within walking distance from each other, Reykjavik nightlife is bursting with electricity. The locals know how to party with masses of people hitting the streets around midnight and staying up all night. Reykjavik also boasts a flourishing music scene, where visitors are guaranteed to see something suited to their tastes, and maybe experience something new.
Icelandair's Nightlife in Reykjavik package deal includes flights and three nights accommodation, as well as plenty of activities to kick start an evening. This package is designed to get visitors ready for what the locals call the 'runtur' (round tour) and provides plenty of time the following day for sleep or a trip to the ultimate hangover cure, the Blue Lagoon spa. The night after arrival begins with an interactive comedic performance called 'Let's talk Iceland', that gives unique insight into how modern-day Vikings party. This is followed by a 3-course dinner at Restaurant Reykjavik including entrance into the Ice Bar and a complimentary drink.
The following night, partygoers are whisked away on a tour of the Egills brewery where they can sample Icelandic beers, and the infamous Brennivin, also known as Black Death.  Adventurous souls can also try a new take on a brew loved by the Vikings.  The tour has everyone back in the city centre in plenty of time to join the 'runtur'.
Icelandair departs from Manchester, Glasgow and London Heathrow.
To find out more about Icelandair's Nightlife in Reykjavik package deal, visit www.icelandair.co.uk. Travel is good until 31st December 2011.