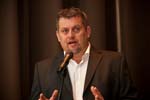 The Golden Tag 2011 Internet marketing conference has announced that Kristjan Mar Hauksson will be speaking during its next event, taking place in Oslo, Norway, 12th – 14th April 2011. Those also announced include Bryan Eisenberg, Avinash Kaushik, Kevin Kelly, Mari Smith and Gary Vaynerchuk.
Over the years, The Golden Tag has become renowned as one of Scandinavia's largest marketing and communication events. It is by far the best arena for sharing competence, knowledge, and networking for everyone within digital marketing, communication, creativity, innovation and management.
The speakers for this year's event are:
Bryan Eisenberg
Bryan Eisenberg is a recognised authority and pioneer in online marketing; in improving online conversion rates, Persuasion Architecture, and persona marketing. He is recognised by eConsultancy members as one of the top 10 User Experience Gurus, was selected as one of the inaugural iMedia Top 25 Marketers, and is a DMEF Rising Star Award winner in 2010.
Kristjan Mar Hauksson
Kristjan Mar Hauksson is the Founder and Director of Search & Online Communications at Nordic eMarketing and SEMPO member. The company specialises in multilingual online communications, organic search engine optimisation and marketing through several verticals such as tourism, finance, government and pharmaceuticals. Nordic eMarketing also assists companies to gain international visibility online and to use the Internet as a communication channel, as well as providing consultation in web content management systems and analytics solutions.
Avinash Kaushik
Avinash Kaushik is an entrepreneur, author and public speaker. In 2008 Kaushik co-founded Market Motive Inc and is currently also the Analytics Evangelist for Google. Avinash Kaushik's blog is ranked the #1 web analytics blog, and #30 marketing blog in the AdAge Power 150 out of 1120 tracked. Through his blog, Occam's Razor, his best selling books, Web Analytics: An Hour A Day, Web Analytics 2.0 and his work with the Analytics teams at Google, Kaushik has become recognised as an authoritative voice on how marketers, executives teams and industry leaders can leverage data to fundamentally reinvent their digital existence.
Kevin Kelly
Kevin Kelly is Senior Maverick at Wired Magazine, which he co-founded in 1993. Kevin is also the editor and publisher of the Cool Tools website, which gets half a million unique visitors per month. Kevin Kelly authored the best-selling books "New Rules for the New Economy" and the classic book on decentralised emergent systems, Out of Control.
Mari Smith
She calls herself Chic Geek & Facebook Passionista, is a social media expert speaker and trainer and the author of several books, including "Facebook Marketing: An hour a day" and "Success Secrets of Social Media Marketing Superstars". She has been crowned the Pied Piper of the online world, and is a veritable engine of personal branding and a relationship marketing whiz. Thousands of ordinary folks, small businesses and even huge organisations are better known and successful today thanks to the extraordinary networking talents of one woman.
Gary Vaynerchuk
Gary Vaynerchuk was one of the speakers at Gulltaggen 2010 with the best audience feedback, and has now been invited back by popular demand He is one of USA's most profiled video bloggers and social media experts, and has captured attention with his pioneering, multi-faceted approach to personal branding and business. Gary's dual identity as both business guru and wine guy has made him the "Social Media Sommelier."
The Golden Tag 2011 spans over three full days, and we promise an event that both professionally and socially will become the best The Golden Tag ever. 12th of April consists of seminars and networking after dark, 13. April is conference day and networking after dark, and on the last day 14. April there will be conference by day and price award ceremony and gala dinner with entertainment by night.
To find out more about The Golden Tag 2011, visit www.gulltaggen.no