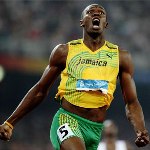 Usain Bolt, the three-time World and Olympic gold medalist sprinter, has confirmed that he will be competing in the 200 metre event at the ExxonMobil Bislett Games on June 9th in Oslo, Norway.
The Oslo event is part of the Samsung Diamond League – and the first in which Bolt has confirmed his participation. Bolt, as well as holding the World record for the 200 metres, also holds the World record in 100 metres and 4 x 100 metres Relay along with the Jamaican sprint team.
In a press release, Bolt commented, "I am looking forward to compete for the first time in front of the famous Bislett stadium crowd in Oslo. I hold three World records but I hear this track has an incredible 69 World records on it so it will be nice to run in such a famous stadium."
Bolt added, "As this year is a World Championship year every meet is important for me in the build up to defending my titles. My competition at Bislett Games and several other Samsung Diamond League meets throughout the season will be an important stepping stone towards that goal. My preparations have gone really well, the injury problem I had during the summer is fully healed and my training has gone according to plan. I have never been to Norway before so I will come to Bislett prepared and ready to run a fast race and entertain the fans."
Bislett Stadium is Norway's most well known sports arena internationally, with more than 50 track and field world records having been set here. In 1999, the American sports magazine, Sports Illustrated, declared that Bislett Stadium was one of the top 20 sports venues of the 20th century.
The Samsung Diamond League consists of 32 individual event disciplines, with a points system that runs throughout the 14 meeting series at Doha, Shanghai, Rome, Eugene, Oslo, New York, Lausanne, Paris, Birmingham, Monaco, Stockholm, London, Zurich and Brussels.
For further information on the Bislett Games Oslo event, visit www.bislettgames.com/en