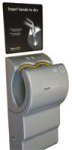 Teknomek has recently announced the addition of the Dyson Airblade to its comprehensive range of stainless steel products and clean room equipment. The new Dyson hand drying system offers previously unavailable levels of hygiene and energy efficiency.
The hand dryer uses a filter to remove over 99.9 percent of bacteria from the air before being applied to the hands. Furthermore, the typical drying time of just 10 seconds results in an energy saving of approximately 80 percent over conventional dryers.
The Dyson Airblade works by hands-free operation, is easy to maintain and comes with a 5-year parts guarantee. The units are available with either polycarbonate or aluminium casings.
Teknomek is the UK's leading manufacturer of hygienic stainless steel equipment and furniture for clean rooms. The company has many years of experience in manufacturing with both 304 and 316 quality stainless steel that will last in even the harshest of environments.
Additionally, Teknomek is Europe's leading stainless steel manufacturer and provides high quality and cost-effective stainless steel expertise to industry hygiene requirements for all sectors such as pharmaceutical, catering and veterinary.
To view Teknomek's range of clean room products, visit www.teknomek.co.uk or for further enquiries see contact details below:
Tel: +44 (0)1603 788833
Email: mail@teknomek.co.uk