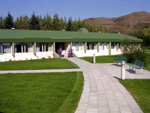 Christmas stress is very common during this time of year, from buying presents to the pressures of organising family get-togethers. This stressful period can lead to discomfort, anxiety and in some cases, depression. However, this can be prevented with carefully planned stress relief treatment and stress management.
The NLFI Rehabilitation and Health Clinic, located in Hveragerdi, Iceland, offers various stress relief and rehabilitation programs to help combat Christmas stress. Available treatments include: neck massages; full body massages; herbal baths; mud baths and acupuncture methods.
In addition, the clinic also offers private consultations for: overweight and dietary problems; heart problems; arthritis; stress management; giving up smoking; back injuries and illness recovery.
Every year approximately 2,000 patients and other guests enjoy the diverse rehabilitation programs at HNLFI. The Clinic has earned a solid reputation, both in Iceland and internationally, since its foundation in 1955 for personal and effective care of patients. The NLFI Clinic is the oldest sanatorium in Iceland.
To find out more about Christmas stress treatments at HNLFI visit, http://www.hnlfi.is/EN/