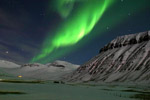 Iceland's leading airline, Icelandair has recently announced a significant price reduction of its Northern Lights City Break package deal for this winter. At a reduction of almost £100, this is a valuable yet unique way to see this natural wonder in Iceland.
The Northern Lights are unquestionably one of the most breathtaking natural spectacles in the world. The natural light displays of the Aurora Borealis occur most frequently in the Polar Regions, centred within a 2500 km radius of the geomagnetic pole.
The amount of sunspots on the sun's surface is the main cause for the appearance of the Northern Lights with these sunspots following an 11-year cycle, which is set to peak between 2011 and 2012. The strength of the Aurora is based on the number of occurring sunspots as well as clear visibility and scientists agree that the conditions for viewing the Northern Lights in 2010 are incredibly good, making this winter the perfect time to visit Iceland.
In addition, due to the exchange rate, Iceland has not been as cheap as it currently is in decades, so now is the time to travel to this winter wonderland. In fact, Lonely Planet named Iceland one of its Top 10 Value Destinations for 2010.
With this in mind, Icelandair has reduced its Northern Lights City Break package deal; including flights, accommodation and the Northern Lights tour. The Northern Lights tour takes place the evening following the day of arrival and is operated by Reykjavik Excursions. Passengers are picked up at their hotel and driven to an area outside of Reykjavik to search for the natural phenomenon. Every tour is different since the leader takes the group to the area where they are most likely to see the lights that day based on weather. The tour generally lasts three to five hours and makes for an exciting evening out exploring the rugged Icelandic wilderness.
Icelandair departs from three different international gateways in the UK; Glasgow, London Heathrow and Manchester.
The offer is good through 31 March 2011 travel and must be booked online at www.icelandair.co.uk by 31 October 2010.