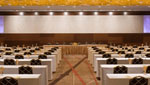 NGNBN and investment opportunities are to be discussed during this year's TMT Finance & Investment Asia conference in Singapore on November 3-4. A debate hosted by KPMG will highlight the business opportunities arising from the launch of Singapore's ultra-high speed broadband network, the Next Gen NBN.
The keynote session led by KPMG will open the second day of the conference, which is the largest gathering of investors and telecom and tech executives in the region. The NGNBN opportunities session will feature leading operators, service providers and stakeholders including Singtel, the IDA, and Global Tech 100 companies.
"NGNBN creates a level playing field for big and small players and focuses competition on innovation, content and service delivery," said Sharad Somani, Executive Director, KPMG who will be hosting the session. "This changed landscape will attract newer business models, innovative financing options and the creation of hot applications. The session will discuss these aspects with the industry players who are in the thick of the action."
The panel will highlight business and NGNBN opportunities for Retail Service Providers (RSPs), Retail Applications, IPTV, High Definition Video Surveillance, Digital Signage and Wide Area Networks to support cloud computing type services. It will be followed by sessions dedicated to Data Centres and Cloud Computing opportunities and an Investors Workshop.
"The next challenge after the successful roll-out of the NGNBN infrastructure is t
o give a kick start to innovation and competition in the retail services space," said Somani. "This not only will help fill up the pipes but also help meet the primary objective of NGNBN – creating a vibrant RSP space."
Speakers announced so far for the Next Gen NBN session include Philip Heah, Senior Director, InfoComm Development Authority of Singapore, Loo Cheng Chuan, Director (NBN), SingTel and Teow Hin Ngair, CEO, SecureAge Technology. The conference programme will also include chief executives from Maxis, Etisalat, Saudi Telecom International, Tata Communications, Huawei, Google, Akamai, Telenor and Alcatel Lucent.
"Following the success of last year's Next Generation NBN session which highlighted rollout and financing challenges, the 2010 event will assess opportunities arising from the launch of the network," said Dominic Lowndes, Managing Director of BroadGroup TMT Ventures, the event researchers and producers.
To find out more about TMT Finance & Investment Asia 2010 visit www.tmtfinance.com/asia, or contact enquiries@tmtfinance.com