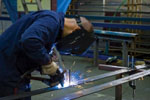 Stainless steel supplies can be expensive at the best of times, but asking for custom stainless steel furniture can prove to be an extremely costly way of getting your project finished exactly how you desired.
Europe's leading stainless steel supplier, Teknomek, doesn't believe that its customers should be unduly penalised for wanted products manufactured to a non-standard specification. Teknomek has introduced a high-tech 3D design department specifically to help its customers realise their requirements with a minimum of fuss, cost and delay.
Teknomek can take customer data and generate a dedicated product, complete with ideas to improve the finished item. A 3D rendered picture can then be generated on order placement so the customer knows that they are getting the exact design they wanted. Typical products Teknomek can customise are tables, cupboards, sink units and trolleys.
Rather than adapting your plans to fit what is available, contact Teknomek and get the end result you wanted, not the one that simply falls into your budget.
Call Teknomek on 01603 788833, or email at mail@teknomek.co.uk to find out more.
Visit http://www.teknomek.co.uk/bespoke-design-service to see how Teknomek can help you.