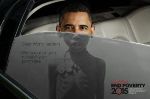 'Unleash Your Creativity Against Poverty', launched on May 1st 2010 by the UN Regional Information Centre (UNRIC) in Brussels, recently announced that Icelandic designer, Stefan Einarsson won the creative advertising competition with one of his design entries. The competition, which was part of the 'We Can End Poverty' campaign, aims to send a creative message to world leaders gathering at the UN General Assembly in New York on September 20th.
The 'We Can End Poverty' campaign received about two thousand entries from hundreds of designers across Europe. These entries were whittled down to 30 ads chosen to compete for the final prize, three of which were made by Icelandic graphic designer Stefan Einarsson. Einarsson's three creative ads landed him 1st, 3rd and 5th place amoung thirty other finalists.
This coming September, Einarsson will receive the EU Spanish Presidency Prize, which will be awarded to him at a ceremony in Madrid hosted by the spanish Queen. In addition, Einarsson and some of the other finalists will have their work published in major European newspapers who have partnered with the UN in the 'We Can End Poverty' campaign.
The Icelandic designer, one of the most awarded in his field in Iceland, currently works as a creative director for Iceland's most established advertising agency, Hvita Husid. Hvita Husid, which translates as The White House, dates back to 1961 and since has gathered decades of marketing experience for many large businesses in both Iceland and abroad.
To view more of Stefan Einarsson's creative design work and commercial work for Hvita Husid, log on to www.hvitahusid.is/english