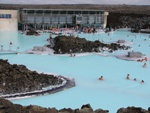 Blue Lagoon, as well as being famous for its frosty blue colour and breathtaking scenery, is also world renowned for the LAVA Restaurant, which is also built into the beautiful lava surroundings. Now, Icelandair is offering Reykjavik city break package deals with a free day tour to the amazing Blue Lagoon.
Located in the ancient lava fields of the Reykjanes Peninsula, the Iceland spa is one of the country's most visited attractions and just a short drive from the capital city, Reykjavik. The LAVA Restaurant, also located at the lagoon, offers a delicious a la carte menu as well as a great selection for kids, making it ideal for all the family to enjoy whilst admiring the beautiful surroundings.
The classy restaurant also offers a 3 course lunch time buffet menu that allows guests to have an 'Icelandic tasting experience'. The buffet menu includes such delicacies as Icelandic meat soup, Icelandic flatbread with smoked lamb and minke whale with pepper gravy.
The LAVA Restaurant also really embraces its name with a natural lava wall surrounding the interior, creating a unique feel and atmosphere. A glass staircase inside the restaurant leads guests to a bar and lounge area on the second floor where they can enjoy pre-dinner drinks in a relaxing environment. Additionally, the roof of the restaurant accommodates a viewing platform with a perfect view of the lagoon and the surrounding area.
The Reykjavik City Break package deal offer includes return economy class flights from either London, Manchester or Glasgow, as well as 3 nights accommodation, Blue Lagoon transfer and entrance fee, plus breakfast at selected hotels.
Further information regarding Reykjavik city breaks and Blue Lagoon tours can be found at www.icelandair.co.uk