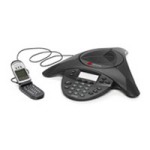 Since 1996, Telcom and Data has brought provided telecom products and services to its customers. The company offers a wide range of the latest technology from the best brands in the industry like Polycom and is one of the oldest and the most revered names in the market.
Polycom video conferencing products provide for a life-like conferencing experience. This can be attributed to the supreme quality of speakers and cameras that accompany the Polycom video conferencing systems.
There is a wide range of Polycom video conferencing products to choose from. Telepresence systems are the most expensive and technically supreme compared to the other available variants. The LCD display and the integrated high fidelity audio make the meeting virtually real.
Integrated room conferencing systems, form another type of Polycom video conferencing systems. The required accessories like the cameras are permanently installed in a conference or a board room setting.
For smaller conference rooms, the set tops are an ideal choice. Alternatively, desktop video conferencing brings the video communication to the user's personal work space. Therefore, Polycom video conferencing solutions can cater to conference rooms of any dimension and a varied number of participants. Apart from video conferencing, Polycom also offers audio conferencing solutions. Polycom conference phones also provide for high quality sound.
These systems are easy to install and highly user-friendly. Polycom conference phones incorporate various features of the conventional analog phones, which makes these phones easy to use. Both Polycom video conferencing systems and conference phones can also use the internet apart from the regular PSTNs for information transfer.
For more information visit http://www.telcom-data.com/