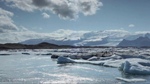 Iceland was recently recommended as a top summer travel destination by leading global travel guide, Lonely Planet. The travel publication encourages travellers to visit the land of fire and ice, explaining that 'there really has never been a better time' to go. The recommendation comes from the January issue of Lonely Planet's monthly magazine proclaiming Iceland as one of the 'Perfect Trips for 2010'.
According to the Lonely Planet, this is due to the favourable exchange rate for visitors, making prices more affordable than ever, and Iceland flights resuming as normal after the ceasing of the Eyjafjallajokull volcano eruption.
Iceland's capital city, Reykjavik, is highly recommended by Lonely Planet, describing it as the perfect location for those wishing to enjoy 'endless' summer evenings. The travel guide also acknowledges Iceland's great summer weather, explaining how the country blossoms after hibernating for half the year.
Lonely Planet also recommends taking a road trip to the hot springs and pastel mountains of Landmannalaugar, a geothermal area in the southern highland or taking a boat ride to see thousands of puffin chicks take flight around the magnificent Vestmannaeyjar islands off the south coast.
To find out more about Iceland package holidays and flights log on to www.icelandair.co.uk
(Photo: Oli Kristinn http://flickr.com/olafur)