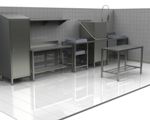 Creating a bespoke design hygienic area for food processing, pharmaceutical or medical production can be a complex exercise. Costs can quickly spiral if the layout is not established and finalised at a very early stage. However, leading manufacturer of stainless steel furniture and equipment, Teknomek now offers a bespoke design service to help customers maximise their available space and minimise costs.
Teknomek has many years of experience in providing innovative hygiene solutions for a wide range of industries. The company, along with its design expertise, is now able to provide CAD generated models of an hygienic area, so that the client can really understand how to make the best use of the available space, with Teknomek's hygiene furniture and equipment.
The stainless steel manufacturer is then able to move and change units until the customer is satisfied that they have the most effective arrangement possible. Teknomek can then manufacture and supply the stainless steel units to the exact agreed specification with the client.
Teknomek is Europe's leading manufacturer of catering stainless steel furniture and equipment, providing high quality and cost-effective stainless steel solutions to industry hygiene requirements for all sectors such as pharmaceutical, catering and veterinary.
For further details on bespoke furniture designs visit www.teknomek.co.uk/bespoke-design-service