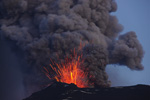 It has recently been announced by the Keilir Aviation Academy that the 'Atlantic Conference on Eyjafjallajokull and Aviation' is to be held at Keflavik International Airport in Iceland on the 15th and 16th September 2010.
The international conference on how the Eyjafjallajokull volcanic eruption in Iceland affected aviation, is set to address the concerns and answer questions regarding the air transportation industry and its actions during the global flight disruptions. President of Iceland and Patron of the Conference, Olafur Ragnar Grimsson, has specified that it is "to discuss the lessons learned and how technology, rules, regulations and aviation training must be improved."
During the conference, there will be eight fundamental themes, covering topics such as, What happened at Eyjafjallajokull? Why was Europe's airspace closed? What procedures were followed? What has been learned? What are the effects of volcanic ash on airplanes and can they be reduced? What steps are to be taken, and by whom, to minimize the threats that volcanic ash poses to aviation?
Guest speakers will come from the civil aviation authorities across Russia, China, Europe, the U.S., the European Commission, OECD, EASA, FAA, Eurocontrol, airlines, airport and air navigation service providers, meteorological offices, as well as personnel from research organizations directly involved in supporting the aviation business. In addition to aviation authority members, scientists will also be discussing the issues of volcanic eruptions and volcanic ash detection and distribution.
The special Guest of Honour during the conference will be Capt. Eric Moody, The captain who glided his B747 to safety out of volcanic ash over Java on 24 June 1982. The Conference Chairman is Dr. Thorgeir Palsson, Professor at the University of Reykjavik and former Director General of the Icelandic Civil Aviation Administration and ISAVIA. It has also been announced that the Patron of the Conference is the President of Iceland, Mr. Olafur Ragnar Grimsson.
Participants during the conference will have numerous opportunities to meet colleagues from all parts of the world during the two days, including a reception by the Minister of Transport and U.S. Embassy and the gala dinner on Wednesday 15th September, hosted by Diamond Aircraft. Furthermore, special bus and flight sightseeing tours to Eyjafjallajokull will be organized on the 14th and 17th September.
The conference is organized in cooperation with Keilir – Atlantic Center of Excellence, the Icelandic Ministry of Transport, the Civil Aviation Administration, ISAVIA, the Meteorological Office, the Institute of Earth Sciences, Icelandair, the Association of European Airlines and the U.S. Embassy in Iceland.
To find out more regarding the conference, and to download the latest program visit http://en.keilir.net/keilir/conferences/eyjafjallajokull