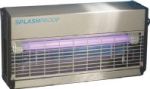 Europe's leading stainless steel furniture manufacturer, Teknomek is offering a 10 percent discount on a broad range of its Insect Control Units throughout the month of June. This limited discount offer applies to three different types of Insect Control Units, including stainless steel and polyester models.
The Splash Proof Series is constructed from 304-quality stainless steel and has a reliable high specification 3750V transformer, robust construction and independent certification. This unit is IPX4 certified and also comes with high efficacy UV tubes as standard.
Another unit on offer, the Industrial Series Insect Control Unit is made from food-grade 316 stainless steel, Zintec mild steel and coated in white polyester. This unit can be wall or ceiling mounted and is supplied with shatterproof lamps as standard. This model also contains a 240v supply and has a power consumption of 62 watts.
The Energy Saving Fly Killer Unit is also manufactured from 304-quality stainless steel. This unit is ideal for commercial use as it is robust and has a low energy consumption of 20 watts.
Based in the UK, Teknomek is a leading manufacturer of stainless steel furniture and equipment, providing high quality and cost-effective stainless steel solutions to industry hygiene requirements. Teknomek cater for all sectors such as pharmaceutical, catering and veterinary.
To find out more regarding Teknomek products visit www.teknomek.co.uk