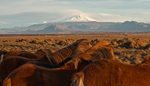 News of the volcano in Iceland cooling down has spread across the world's media as travellers can now start looking forward to being inspired by Iceland and for unrestricted flights to Iceland.
Foreign media across the world, including BBC News and Sky News, have reported on the ceased activity at the Eyjafallajokull volcano in the south of Iceland. According to BBC news, experts say that the temperature in the crater appears to have fallen to 100C, meaning it is now producing steam not magma.
Iceland's exposure in the news and its search volume online has seen its greatest rise over the past few months, with a total increase of 800 percent global search volume – much higher the period during the banking crisis in Iceland.
This huge exposure is the breath of fresh air that Iceland tourism has been looking for; as travellers now have the opportunity to purchase unrestricted flights to Iceland without any fears of disruptions caused by the volcanic ash cloud.
"We are thrilled at this positive exposure for Iceland and Icelandic tourism across the world's media. We look forward to seeing more foreign travellers in the next few weeks and for them to be inspired by Iceland and its wonderful landscape and people," explained Jonathan Baker, editor at IceNews; a native Englishman who loves living and working in Iceland.
For further information contact Russell Harmon at Nordic eMarketing. You can email him via Russell@nem.is