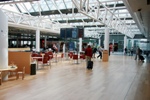 Whilst Keflavik International Airport was forced to close for a few days due to ash clouds from the volcanic eruption at Eyjafjallajokull, airport staff remained positive and focused throughout. The airport is now moving on and staff are well underway with preparations for the summer months as extra flight schedules will commence in time for the influx of travellers to Iceland.
Keflavik Airport holds the title of 'Best Airport in Europe' as crowned by the Airports Council International, and it aims to continue its high standard of service. The airport was highly commended for its overall passenger satisfaction in regards to courtesy and helpfulness of staff, connecting flights, atmosphere and cleanliness.
"Airport facilities and passenger service have been improved tremendously over the past few years, and here at Keflavik Airport we intend to continue to work hard in order to retain our high standards and great service," Gudny Johannsdottir, Director of Commercial Operations explained.
The airport building accommodates exceptional facilities that were recently renovated in 2007. The shopping area hosts two restaurants, three cafes, a bar, bank and eighteen retail stores in total that sell a range of items from electrical goods to clothing, all at reduced prices. Confectionary items, liquor, cosmetics and tobacco are also widely available, and three duty free shops are in the passenger waiting area.
Furthermore, the airport also accommodates around 24 flight destinations across Europe and the USA proving it to be a central hub in the Atlantic for connecting transatlantic and European flights.
Additional information on Iceland's international airport and summer flights can be found at www.kefairport.is/English