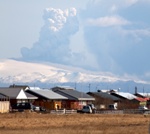 In Iceland, day-to-day life continues as normal with the vast majority of the country and population being unaffected by the recent volcanic eruption. Those mainly affected are farmers in the immediate area located just south of the volcano crater. This is where the majority of volcanic ash has fallen and consequently acres of farmland and this year's crops have been damaged.
However, hundreds of volunteers have been working to assist with the cleaning up of volcanic ash and to help those affected by the eruption. The abundance of volunteers came together on Facebook with a group being made by numerous organisations such as the Icelandic Red Cross, the accident prevention association Ice-Sar and the Jeep association 4×4. The federation of women's associations in Iceland also helped out by serving lunch at a local service centre for all the volunteers.
Iceland's Route 1 highway which runs near to the Eyjafjallajokull volcano has even been reopened because no immediate dangers are present. The volcanic eruption has only affecting a very small area of Iceland on the south coast so the vast majority of the island remains unaffected and is still extremely safe to travel around.
Reykjavík based businesses working in the travel and tourism industry are still open as usual offering numerous day trips and guided tours that explore the island. Furthermore, the whale watching season has now officially started and new exhibitions are opening in downtown museums. Sightseeing tours are also running as normal, including Jeep tours to view the volcano.
In addition to this, the Icelandic airline company, Icelandair, continues its flight schedule in and out of Iceland making flights as frequently as possible even with the recent disruptions. The airline company is also, like many others, continuing to offer package deals and tours around Iceland.
Information about Icelandair flights and travelling to Iceland can be accessed at www.icelandair.com
Photographer: Anders Peter Amsnæs / www.imagix.dk