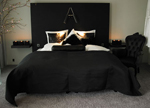 According to a recent study by the Economist Intelligence Unit, Demark has been crowned as the number one location to conduct business, due to the country's luxury hotels, fiscal polices and incentive services.
The world's foremost provider of industry, country and management analysis information, Economist Intelligence Unit, examined Denmark's pro-business strengths across ten categories. The country scored highly in the quality of fiscal polices, market flexibility and public services. These rankings are assessed on how appealing a country is for a location of investment.
Hotels in Copenhagen, a major business and hotel provider, offers a range of over 60 different luxury hotels across the vibrant city of Copenhagen. Through the Hotels in Copenhagen website, you can book accommodation in some of Denmark's most stylish hotel suites, ranging from three to five stars. Each hotel has the facilities needed to ensure a perfect business incentive and meeting trip.
Hotels in Copenhagen also provide a wide selection of cheap hotel accommodation for those sticking to a budget.
To find out more about luxury hotels in Denmark and Copenhagen visit www.hotelsincopenhagen.dk