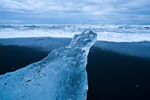 The recent volcanic eruption at the Eyjafjallajokull glacier, in the south of Iceland, is one of many incredible adventure tours within 'the land of fire and ice' for 2010. There are numerous magnificent landmarks to explore within the southern region of the ice-capped landscape. Why not extend your volcano day trip by driving just a little further east to explore the wonders of the largest glacier in Europe, Vatnajokull?
The Vatnajokull glacier park encompasses some of Iceland's most famous scenery, from breath-taking glacial peaks to the peaceful idyllic Jokulsarlon lagoon and the ice-covered volcano of Oraefajokull. The Vatnajokull glacier is not only the largest glacier in Iceland but also in Europe, with an average thickness of 400m, and a maximum thickness of 1,000m.
During the bright summer months of the midnight sun, leading travel company Vatnajokull Travel offers exhilarating day trips to Jokulsarlon, where you can choose from either a boat tour in the glacial lagoon, or a snowmobile trek on the glacier itself. The adventure travel company also offers ATV tours to the black sands of Sudurfjorur, a great way to spend the day during the summer months.
Vatnajokull National Park has also been used as the backdrop for box office smash hits 'Lara Croft: Tomb Raider', 'Batman Begins' and 'Flags of Our Fathers', due to its beautiful, yet unique landscape.
Vatnajokull Travel also provides incredible adventure tours during the winter months.
To find out more about the Vatnajokull glacier park and exciting adventure tours visit www.vatnajokull.is/english/