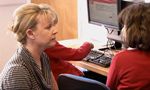 In a recent 'Show & Tell' education event initiated by Becta, the government agency for technology in education, parents and teachers came together to see the benefits and advantages of technology and learning platforms in helping children's education and their learning process. The location for the event was at Grays Infant and Nursery School, where staff and parents were keen to share their stories on how learning platforms have changed and are continuing to change their children's learning for the better.
The interactive event began with an introduction to Grays School's use of technology in education in relation to its learning platform, presented by Head Teacher, Christine Terrey. Grays School is an Infant and Nursery School of 240 children situated in Newhaven East Sussex and in Easter 2008 the school started using its brand new learning platform.
The Infant and Nursery school recently won the Extended School Engagement award for the University Awards in Excellence, the Becta ICT Excellence Award for Leadership Management and Collaboration, as well as being the first Infant and Nursery school in East Sussex to gain the ICT mark. Grays School's Head Teacher, Christine, is a member of her Local Authority's advisory board, ensuring that other schools in the East Sussex area are able to learn from her experiences of using learning platforms.
A learning platform is a series of different technologies that work together as a whole in order to provide opportunities for extending learning inside and outside of school. Students, parents, carers and school staff can access resources, online storage and tools for communication, collaboration and showcasing.
The learning platform at Grays School places emphasis on supporting and adding value to the work that the pupils already do by presenting them with opportunities for learning to continue after the school day has ended. Even the nursery school pupils are able to login to the learning platform, using a series of picture icons rather than words. Uploading lessons to the learning platform, within minutes of a lesson ending, means that children can reflect on the work they are doing and can share their day's activities with their families.
"I think overall the learning platform has enhanced the school here. It has supported the pupils' engagement with their learning and it is building their self esteem. We use it to celebrate achievement and to celebrate progress, and for our children to see their learning and be proud of it," commented Christine Terrey, Head Teacher at Grays Infant and Nursery School.
Learning platforms can offer pupils, parents and teachers a combination of services available over a secure, safe network, such as a school intranet or the worldwide Internet. School staff, children and parents can log in with a password to access various services, materials and resources. These can be unique to each individual school depending on its wants and needs, but most typically include pupil information, online learning resources, pupils' work files and communications tools.
For more information on Becta's Next Generation Learning campaign, learning platforms and extended learning visit www.nextgenerationlearning.org.uk/extendinglearning