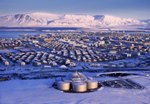 Travellers are flocking to Iceland due to the favourable currency exchange rate for UK visitors. Iceland's leading airline, Icelandair, has seen an increase in UK sales over the past year since the Icelandic economic situation has brought increased attention to the country.
Icelandair has seen an increase in UK sales due to the ever increasing interest in Iceland as a holiday destination and consequently now a great value for money destination. This was also confirmed and publicised when the world travel guide Lonely Planet chose Iceland as the best value destination for 2010.
"It seems that in the middle of the media interest we have been able to communicate the fact that this is a great time to visit Iceland, because as a traveller you simply get more for your money than ever before", says Birkir Holm Gudnason, CEO of Icelandair.
Hjorvar Saeberg Hognasson, General Manager UK, added, "If you compare what a pound got you on 1st February 2008 to 1st February 2010, you see an increase of 57 percent, so you can see why UK passengers are heading to Iceland in droves to experience the breathtaking nature and enjoy activities like searching for the Northern Lights. Whale watching season is also just around the corner so we hope to see many travellers heading over to see the whales and amazing birdlife."
Last week Icelandair added another three percent to its flight schedule, which was already ten percent up from last year, as a reaction to the rising interest in Iceland tourism.
Further details about Icelandair and booking flights to Iceland can be found at www.icelandair.co.uk
Contact
Melissa Andretta
Icelandair
Tel: 020 7874 1003
Email: melissa@icelandair.is